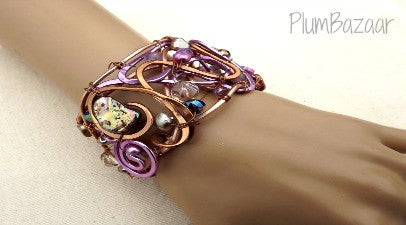 Wire wrapped and beaded cuff bracelet, lilac and soft brown, adjustable
This lovely bracelet was handmade by one of our designers! She used aluminum wire in a soft brown color to form the cuff, and then added lilac wire along with pearls, shells and sparkly crystal beads in iridescent shades of amethyst, purple, taupe and pink.
Aluminum wire is lightweight but strong and flexible, which makes this bracelet adjustable to most wrist sizes.